We Help Capital Equipment Companies Grow and Compete
Collecting intelligence is like a scavenger hunt; nuggets of information are hidden everywhere. Your challenge is to go out and find them. But you cannot conduct the hunt as random bursts of effort if you want to develop truly effective competitive intelligence. In a...
read more
Amazon Bestseller
---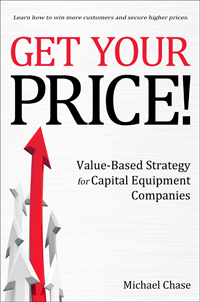 This indispensable guide will show you how to create superior customer value and get paid for it.
Learn More
Like some help?
---
Are you ready for the growth and profitability that a value-based strategy can provide?
Ask me about:
Speaking
Training
1-on-1 coaching
Company-wide help
Learn More