We Help Capital Equipment Companies Grow and Compete
Their newly designed deposition system was ready to start shipping just as the market was taking off. Customers couldn't get enough of them. In just eighteen months, they sold eighty units at over $4M a pop. Nearly three times more than anyone had forecasted. They...
read more
Amazon Bestseller
---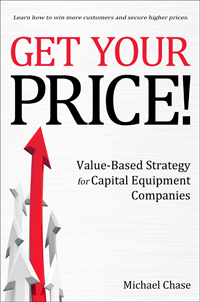 This indispensable guide will show you how to create superior customer value and get paid for it.
Learn More
Like some help?
---
Are you ready for the growth and profitability that a value-based strategy can provide?
Ask me about:
Speaking
Training
1-on-1 coaching
Company-wide help
Learn More