We Help Capital Equipment Companies Grow and Compete
Excerpt from Get Your Price!: Value-Based Strategy for Capital Equipment Companies It's time to turn the concept of value into some hard numbers. In the preceding chapters, you learned three important value-based strategy principles: Capital equipment value is pure...
read more
Amazon Bestseller
---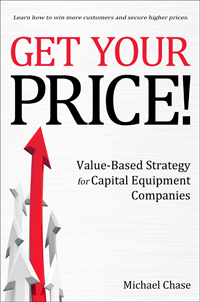 This indispensable guide will show you how to create superior customer value and get paid for it.
Learn More
Like some help?
---
Are you ready for the growth and profitability that a value-based strategy can provide?
Ask me about:
Speaking
Training
1-on-1 coaching
Company-wide help
Learn More