We Help Capital Equipment Companies Grow and Compete
Are you the only game in town? The only company that can meet your customers' most advanced requirements? If yes, then count yourself as one of the lucky few. Enjoy it, but don't relax. It doesn't last forever. High technology capital equipment industries mature...
read more
Amazon Bestseller
---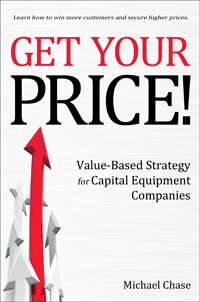 This indispensable guide will show you how to create superior customer value and get paid for it.
Like some help?
---
Did you know I offer one-on-one coaching?
I've helped dozens of capital equipment product management and marketing professionals accelerate their careers and secure more customers at higher prices this way.
I'd love an opportunity to help you.