We Help Capital Equipment Companies Grow and Compete
Want to know a not-so-obvious attribute that will determine if you're going to be a great product manager or merely a good one?  It's not your product expertise, your gift for anticipating market inflections, your talent for telling a great story in PowerPoint(R), or...
read more
Amazon Bestseller
---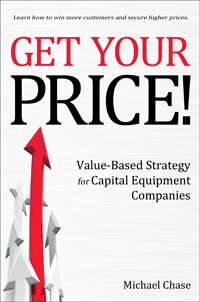 This indispensable guide will show you how to create superior customer value and get paid for it.
Learn More
Like some help?
---
Are you ready for the growth and profitability that a value-based strategy can provide?
Ask me about:
Speaking
Training
1-on-1 coaching
Company-wide help
Learn More